Kumon is the world's leading after-school enrichment programme and has been ranked #1 in the Tutoring Category in Entrepreneur Franchise 500 for the past 21 years. At Kumon, we aim to make an impact on students beyond teaching. Join the Kumon Franchise to kickstart your own career as a Kumon Franchisee in Singapore!
Constantly Impact Young Students for the Better
Are you feeling unfulfilled in your current career as an educator or teacher, feeling like you could do more to impact the students and children in your life? This could be a sign for you to join the Kumon franchise business in Singapore!
Our Kumon Franchise Instructors are passionate about education and long to start their businesses. With Kumon, you can incorporate your approach with our Proven Franchise Business Model to contribute to the development and success of students.
Becoming a Kumon Instructor
Kumon was created by our founder Mr Toru Kumon, a father who wanted to help his child improve his academic ability and develop independence in learning. Kumon has ever since become one of the world's leading after-school supplementary programmes and is still growing.
The low start-up cost makes it easier for like-minded and passionate individuals to join and shape the next generation within Singapore. And for the same reason,  we keep our license fee low at $2,000.
Depending on your location, the total start-up fee can range between $40,000 and S$80,000 to set up a Kumon Centre on average (including franchise fees, renovation, and rental). And to help you build up your Centre's awareness and student base, Kumon will support you with a marketing support plan and subsidy.
Many of our current owners are from various walks of life. Some are from finance and accounting backgrounds, and many have their own children currently or previously enrolled in Kumon. They may not have any teaching background, but they indeed share one common passion – to work with children and believe in our mission of helping them become independent, self-assured and confident leaders of tomorrow.
To help you start and grow your business as a Kumon Franchise Instructor in Singapore, we provide an ongoing training programme and support from day one.
Far-Reaching Impact with Ripple Effects
The Kumon Method aims to nurture each child to be a confident, academically strong, self-directed learner. Building up confidence and independence in children not only benefits them academically but also help them overcome the various challenges they encounter throughout their lives.
Kumon is a proven, tried and tested learning method for students of all ages and abilities. And we are dedicated to helping each student to achieve their full learning potential with the Kumon Method. Our Instructors are trained to discover each student's learning potential through individualised study projection and assigning the appropriate worksheets level. They focus on providing children with guidance to solve complex problems while encouraging them to complete the worksheets independently. 
It is essential to cultivate independence and confidence in children from a young age, as it brings positive effects in the long term. Kumon's foremost goal is for every one of our students to use their newfound abilities to create bright futures for themselves and play a part in their society.
Hear From One of Our Successful Franchisees
"In Kumon, I see the hopes for the children. Some of them had given up on themselves when they first joined Kumon. But these children have so much potential in them. After joining Kumon, they have changed totally. They are so confident. Some of the Kumon Completers are doing so well in the society now. If I could turn back the clock to more than 14 years ago when I was still working in the banking industry, I would still recommend myself to do Kumon. Because what I am doing is more meaningful to the society and children around us."
Michelle Poh
Instructor (Singapore)
With the Kumon Method, Michelle focused on helping her students improve their academic abilities and achieve their full potential holistically, helping them regain confidence. Her journey as a Kumon Franchisee in Singapore has been and will continue to be meaningful and fulfilling in shaping the young generation.
Want To Know More? – Attend our Kumon Franchise Information Session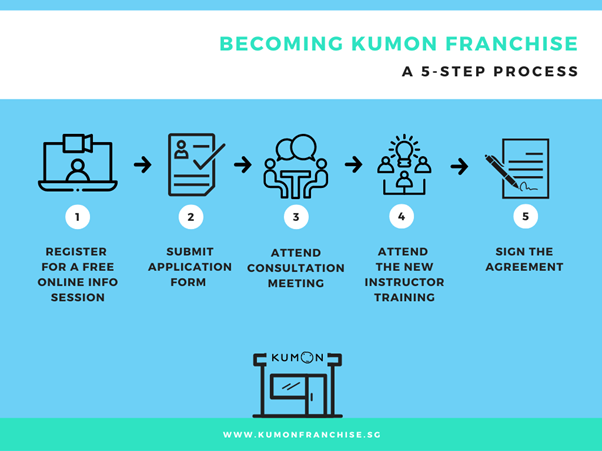 Interested in starting a franchise, or need more information? Register for a non-obligatory Kumon Franchisee Information Session here. Learn more on how you can contribute to the learning success of your students  from some of our successful franchisees and Kumon franchise experts. We look forward to seeing you at one of our Kumon Franchise Information Sessions soon.
Become a franchisee today!
Attend A Kumon Franchise Information Session
After years of supporting and training Kumon franchise owners, we have mastered just about every issue, question or challenge you could possibly encounter. This is why we are offering a non-obligatory Franchise Information Session to cover whatever you need to know before you commit, such as:
Have all your questions answered at the orientation and find out if Kumon is the right fit for you.