Over 24,700 Franchisees Worldwide
Have Profited Using This Proven Franchise Business Model
Ranked #1 in Tutoring Category in Entrepreneur Franchise 500 for 21 years (2001-2022),
#7 Top Global Franchises in 2020 and #6 Franchise 500 Ranking in 2022.
Why Choose Kumon?
World's Largest Education Franchise
As one of the most well-established franchises in the world, with more than 24,700 Centres, Kumon serves more than 4 million children across 60 countries and regions. Right at this moment, someone, somewhere around the world is learning with Kumon. We are
actively seeking passionate individuals to join our local operations.
Proven Franchise Business Model
As a franchisee, you get to run your own business using a proven business model developed over the past 60 years. Ranked #1 in Tutoring Category in Entrepreneur Franchise 500 for 21 years (2001-2022), #7 Top Global Franchises in 2020 and #6 Franchise 500 Ranking in 2022.
We Support Your Passion
Run a profitable franchise with our help.
As a franchisee, you will receive extensive training and marketing support so that you can help students of all ages discover and achieve their potential. The Kumon materials provided are constantly improved to enhance the learning and growth of students.
Why Start a Kumon Franchise Business?
You don't have to pay a premium to partner the world's largest education franchise. Our low licence fee of $2000 makes it easier for passionate individuals to join us.
We understand that marketing for your own centre can be difficult and costly, that is why we provide marketing support to all our centres throughout the year, whether it is announcing your centre's grand opening, promotions or student recruitment. Did we mention that no additional marketing fee will be charged?
On average, the tenure of a Kumon franchise business is more than 10 years. We are here throughout to ensure you have the extensive trainings and resources to run a profitable Kumon franchise from the start and in the long run. Your career is about to change, one child at a time.
As a franchisee, you also become a Kumon Instructor (teacher) so you can contribute to the success of your students. For over 60 years, we develop children to be confident, self-directed learners who can overcome challenges on their own. Be the one to transform a child's life.
Hear From Our Successful Franchisees
Before starting Kumon, I was a preschool teacher and a Kumon parent. I always wanted to be an educator and an entrepreneur. Kumon helped me from finding the right location to setting up the centre, including trainings on conducting Parent Orientation sessions and Diagnostic Tests for students. They also guided me in creating study plans and conducting classes effectively. Ability based learning is what attracted me towards Kumon. Every time a primary school child that has been with me since preschool comes to me and tells me "I'm top in class", that is a very fulfilling moment for me.
Sita Sah


Instructor (Singapore)
When I was working in my previous job as a school teacher, I found that I have limited pockets of time, it's either for my children or for myself. With Kumon, it's a balance. The experience has been fantastic. I reached the first goal that I had set for myself within two years. I wanted to earn as much as I was earning when I was a teacher yet having that work life balance. And I have achieved that.
Jaslyn Lee
Instructor (Singapore)
In Kumon, I see the hopes for the children. Some of them had given up on themselves when they first joined Kumon. But these children have so much potential in them. After joining Kumon, they have changed totally. They are so confident. Some of the Kumon Completers are doing so well in the society now. If I could turn back the clock to more than 14 years ago when I was still working in the banking industry, I would still recommend myself to do Kumon. Because what I am doing is more meaningful to the society and children around us.
Michelle Poh


Instructor (Singapore)
I currently have a student who started doing maths at four years old without even knowing how to write or count beyond 10. Within two years, he began studying material that is typically five years beyond his age. For me it is wonderful how Kumon can cater to the needs of each child.
Anna Song


Instructor (Singapore)
It was a huge commitment to give up a full-time job for the uncertainties of starting a business. But once I decided to take the plunge, Kumon provided support in terms of training and location search, and I eventually took over a centre in Pasir Ris. When my students come up to me and tell me their little accomplishments like "I can do additions!" or "I completed my work in 15 minutes!" I feel a great sense of achievement. I had a student who cried whenever faced with Math problems. Now she is learning about 3 years ahead of her school grade and told me she wants to complete the whole Math programme.
Ivy Yap


Instructor (Singapore)
I was looking for an alternative to live in the present, to be present for every milestone of my child.
Ever since I opened my own Kumon centre, my experience has been fantastic! Being a Kumon Franchisee has not only allowed me to spend more quality time with my kids and have the lifestyle I want for my family and myself but also achieved financial stability.
Watching my children and my students grow gives me the greatest joy and fulfilment. And the best part is I am building my own dream, not someone else's.
Ms Jean Li


Instructor (Singapore)
Formerly worked in the education industry
It was my younger days' dream to have my own "school of sorts".
I don't have the years to learn or build teaching methods or materials from scratch, so it is essential that I find something that closely presents my beliefs & preferences regarding how I would like to nurture students.
I reviewed many of the different options for franchise businesses and decided on Kumon.
Kumon is a very structured and "tested" program with detailed documentation of its ideas, methods and material. Not to mention, the Instructor training was very helpful in getting me on board.
The most satisfying part of this journey is witnessing changes from nothing to something, from something to something better and better. These include growth in the students, the parents, the team and me.
Ms Harriet Kwok


Instructor (Singapore)
Formerly worked in the financial industry
I've been helping many children out there, but I didn't have time for my own children. I was very guilty about it and knew I needed to make some changes before regretting it.
It certainly took a giant leap of faith to decide to quit my job and start a business of my own.
Now, I'm in control, growing my own business and better able to prioritise how I spend my time to allow more of it with my family and continue making a difference in children's education.
I take pride in turning my passion for kids and education into a long and uniquely satisfying career as a Kumon business owner. Not only it is profitable, but also I managed to have the lifestyle that I want for myself and my family.
Mdm Rajalashmy


Instructor (Singapore)
A Kumon Parent who worked in the education industry
I have always had a deep passion and interest in working with young children.
As a former teaching assistant in one of the Kumon Centres, I love watching the growth and transformation of many students, not just in terms of their academic ability but also their study attitude.
I was impressed with the Kumon Method. There and then, I made up the decision to open a Kumon Centre when I was still an undergrad. It became my first personal goal.
It has been more than 10 rewarding years since. I am thankful to be running my own business that is not only successful but also meaningful and rewarding!
Ms Pauline


Instructor (Singapore)
Previously worked as a teaching assistant in the Kumon Centre
Attend A Kumon Franchise Information Session
After years of supporting and training Kumon franchise owners, we have mastered just about every issue, question or challenge you could possibly encounter. This is why we are offering a non-obligatory Franchise Information Session to cover whatever you need to know before you commit, such as:
Have all your questions answered at the orientation and find out if Kumon is the right fit for you.
About Us
Kumon is the world's leading after-school enrichment program. Founded in 1954 in Japan, the Kumon Method was born out of a father's desire to help his son improve his academic ability. Mr Toru Kumon created learning materials that made it possible for his son to learn independently; with the belief that children have an inherent potential to grow. Ever since its establishment, Kumon has consistently aimed to help students develop a firm foundation of academic ability and the confidence to learn on their own.
Nothing comes close to what a Kumon franchise opportunity can offer – low startup cost from $40,000, proven business model, and an education business that is emotionally rewarding. If you possess a passion to work with children & want to play the role in shaping the next generation within Singapore, join us at our Franchise Information Session and find out if we are a suitable fit for you!

*You must be a Singaporean/PR, possess a degree in any discipline or diploma from NIE.
Our Blog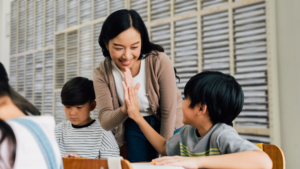 Discover insights as to what your day-to-day life could look like as a Kumon Franchisee in SG. What the role entails & more importantly, the benefits of it!
Read More