Maybe you've seen your fair share of Kumon franchises opening around you, and wondered, what makes these Kumon Franchisees successful? Or, why do they choose to open Kumon Franchise centres instead of other education franchises in Singapore?
Seeing Success In-Person
Many Kumon Franchisees that have opened centres were once Kumon Parents, who were  parents who sent their children to Kumon Centres for education. They saw the results and the achievements their children attained with Kumon.
These parents would then, after having seen their child  becoming independent learners  thanks to The Kumon Method, open their own Kumon centre, becoming Kumon Instructors themselves.
Stories like these are just one of the many reasons why opening a Kumon Franchise works. Many children and parents have benefitted directly from The Kumon Method.
The Kumon Method allows for franchisees (i.e. Instructors)  to make a different kind of educational impact for children. Kumon is not focused on repeating the information taught to the children in school, but rather on teaching children to be independent learners. The Kumon Method is all about helping students learn independently, by catering for learning that is 'just right' for them.
As the learning is 'just right' for them, they will be adequately challenged when they're stuck, and by looking at the hints within the worksheets, alongside guidance from their Kumon instructors, they are able to figure out the method to solving the questions. This helps students gain self-confidence and the understanding that nothing is impossible as long as they try.
These skills and abilities are skills and abilities that carry on into all aspects of the child's life, not just their academics.
Here are some skills and abilities these children will get to learn:
Self-confidence will enable them to be great leaders and speakers, being able to have the confidence to speak and share about things that they know, and the confidence and to find out about the things that they do not, such as by asking questions. It will also allow them to be more outgoing and have a 'can-do' attitude.


Independence will enable them to learn and do things by themselves, letting them have the ability to further their knowledge without needing much instruction or guidance unless absolutely necessary. It teaches them to be critical thinkers, able to sort out the information they gather, as well as understanding when and how to use it.


Perseverance is another ability taught to the students, as they are required to score a 100 percent before they are allowed to advance to the next level. This is done to ensure they fully understand the subject and topic. This, combined with the motivation and encouragement of our instructors will teach then the virtue of being comfortable with failure, and that their perseverance will eventually be met with success when they advance to the next level.


Attention to detail, is an important skill that the students will learn as well. The requirement of scoring a 100 percent before being allowed to advance to the next level is how The Kumon Method teaches the children to double-check and avoid making careless mistakes in their work, regardless of the subject.
These children will be heading out into the real world eventually, equipping them with these skills that are also useful in the real world is something you as a future Kumon Instructor will be able to do.
Form Strong Bonds With Students
As an Instructor, you will be able to build a strong relationship with your centre's students. The ability to form a bond with these children is something that not everybody will be able to do in their lifetimes. You'll be responsible for playing a part in inspiring them to be the leaders, innovators and explorers of tomorrow, in charge for this milestone of their life's journey.
Want To Know More? – Attend our Kumon Franchise Information Session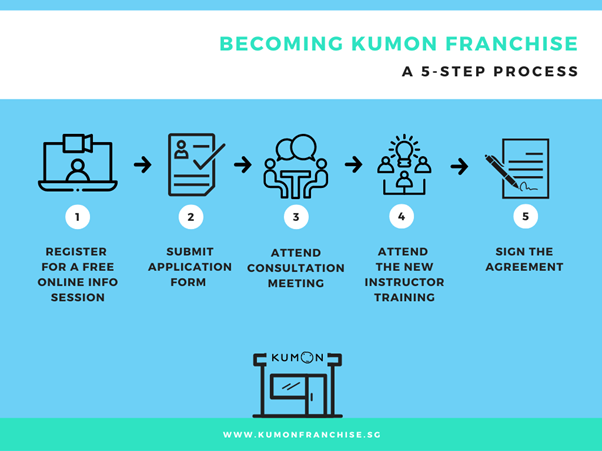 Interested in starting a franchise, or need more information? Register for a non-obligatory Kumon Franchisee Information Session here. Who better to hear from than successful franchisees and our Kumon franchise experts. We look forward to seeing you at one of our Kumon Franchise Information Sessions soon.
Become a franchisee today!
Attend A Kumon Franchise Information Session
After years of supporting and training Kumon franchise owners, we have mastered just about every issue, question or challenge you could possibly encounter. This is why we are offering a non-obligatory Franchise Information Session to cover whatever you need to know before you commit, such as:
Have all your questions answered at the orientation and find out if Kumon is the right fit for you.