What Sets Kumon Apart from the Rest
What is Kumon?
Kumon has more than 24,700 centres globally across 58 countries. The first Kumon centre in Singapore opened in 1995, and that number has only grown since. As of 2022, there are more than 80 Kumon centres located throughout Singapore.
Kumon first started in 1954, due to a father's love for his child. Maths high school teacher Toru Kumon began creating math worksheets to help with his son, Takeshi Kumon, whose math grade was struggling in elementary school. Through trial and error, the prototype for the Kumon Method was created, based on Toru's beliefs that educators were there to encourage a mindset for self-learning for children, and that students could only learn properly by being able to study by themselves. We believe every child learns at a different pace at Kumon, which is why children who attend our classes are given taught according to their ability level, which we improve from there.
Our centres are typically open for 10 years or more, and we are always providing training, resources, and marketing support to all centres. The low licence fee of $2000 makes it easy for those interested to join us. Kumon has existed for over 60 years, with our franchisees finding a great balance between transforming children's lives and having a profitable business.
We at Kumon believe in letting our performance speak for itself, here are some of the many testimonials the Kumon franchise and our centres in Singapore has received over the years.
"It was a huge commitment to give up a full-time job for the uncertainties of starting a business. But once I decided to take the plunge, Kumon provided support in terms of training and location search, and I eventually took over a centre in Pasir Ris. When my students come up to me and tell me their little accomplishments like "I can do additions!" or "I completed my work in 15 minutes!" I feel a great sense of achievement. I had a student who cried whenever faced with Math problems. Now she is learning about 3 years ahead of her school grade and told me she wants to complete the whole Math programme. "
– Ivy Yap, Kumon Singapore Instructor
"The principal and teachers at the centre are really helpful. Mdm Loh is very observant of my child's progress and provides regular feedback to us. She is also willing to share with us many tips regarding children education and psycology. All my 3 children have benefitted from Kumon Method and Kumon Woodgrove Centre. Highly recommended!"
– Kok Liang Huang, Parent
"I was enrolled into Kumon when I was in Primary 2. Only recently I completed the entire Kumon programme as a Secondary 1 student. My experience with Kumon was extremely great. The teachers there are extremely kind and caring, always helping me when I was facing difficulties, always making me feel better, allowing me to complete my work faster and also to achieve my goals. The learning environment is perfect as it is quiet and I was easily able to focus and do my classwork. I strongly recommend Kumon as the perfect enrichment center."
– Choon Wei, Former Kumon Student
"A learning journey for my 2 boys and I, that has been well-supported with timely advice and plenty of warmth and reassurance from Jamie and her instructors! My 2 boys are gradually mastering the art of discipline to become more effective learners and individuals who are proactively settling down to begin with their Kumon work each day so as to complete first things first! Also gaining confidence as they accomplish ahead of their peers based on the Kumon standards of learning… with the constant encouragement as the going gets tough, the boys have been able to refocus and surge ahead again! Many thanks to Kumon Punggol Northshore! Kudos to Jamie who has been our pillar of strength and motivation these years… grateful…"
– Chia Hui Chin, Parent
The Kumon Difference
What does Kumon do differently from other education franchises?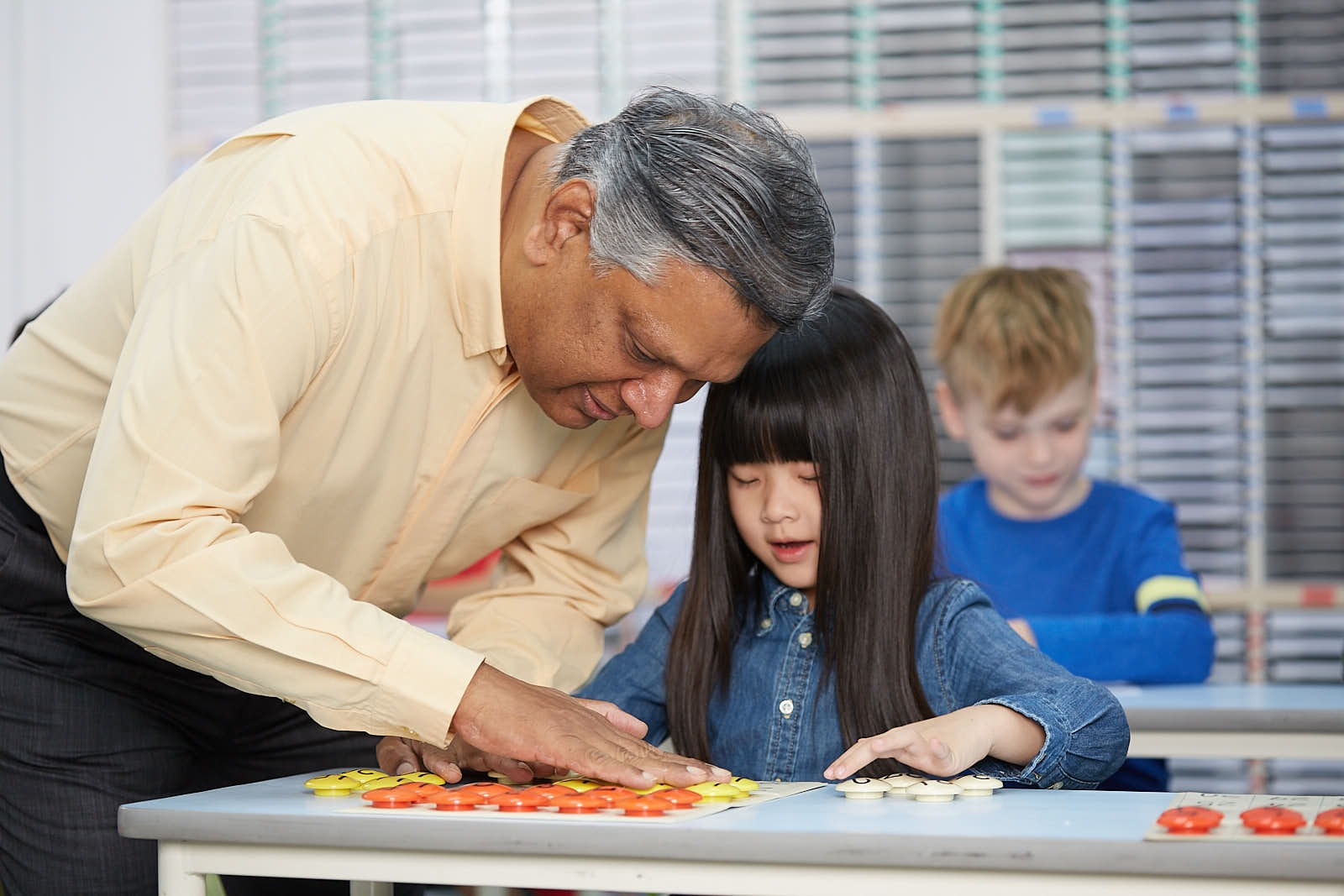 We believe that every child has the potential to grow. Regardless of the child's starting capability, Kumon aims to instil in them a love for self-learning, and to be independent outside of school as well. Offering a study at the "just-right" level technique tailored to suit each child's ability, Kumon is able to determine what is "just-right" for each individual child.
When children are given tasks that are above their level, they might start believing that they are at fault for their studies, which can lead them to neglect their studies due to those beliefs, and this can follow them well into adulthood, affecting their future.
Conversely, if children are given tasks they find too easy, they can get complacent and start to neglect their studies, which will eventually lead to them being unable to keep up with others, becoming the children that are given tasks above their level.
Kumon achieves this through our 4 strengths of:
Individualized Instruction, allowing each student to study at a comfortable level, regardless of age or school grade, and advance beyond their current grade level. It also allows you to conduct classes that have multiple students of different ages and levels, all at the same place and timeslot.
Self-Learning, encouraging students to read the worksheets, think, and do the exercises on their own. It allows instructors to take on larger classes, giving them the ability to focus on students that need the most help, and makes it more efficient for instructors to teach students, as they will be focused on answering questions students have from their self-learning.
Small Step Worksheets, encouraging students to read the worksheets, think, and do the exercises on their own. This allows instructors and the students themselves to pinpoint exactly which level students are in their studies. Being able to easily keep track lets instructors inform parents and cater lessons accordingly.
Kumon Instructors, who discover what individual students are capable of and bring out their potential. Kumon ensures that all instructors are held to a high level of standard, by providing training, keeping materials up-to-date, and marketing support for instructors, to ensure that the only things they have to focus on are the business operations.
Kumon – Time Tested
There's a reason why Kumon has been able to be around for so long, and be 1st in the Tutoring Category for Franchise for Entrepreneur Magazine's Franchise 500. Which is that our time tested formula works.
It can be seen from our growth, with new centres constantly being opened throughout Singapore, as well as worldwide.
It can be seen from our strength in the education franchise space, as it is impossible to be 1st  for this long without putting in the necessary amount of effort.
It can be seen from our reviews, with thousands if not tens of thousands of children who have benefitted from Kumon's programmes, not just in academics but also the confidence and ability to study independently.
These factors are only a few of the multitude of factors that make Kumon The Education Franchise Experts.
Kumon – Proven For Success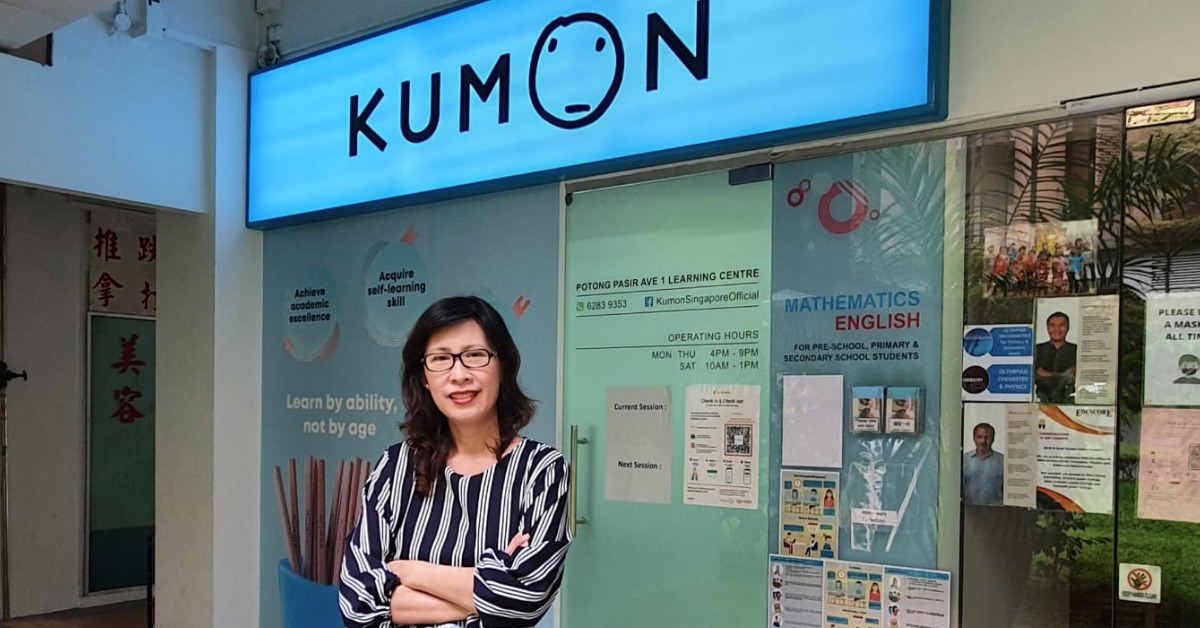 Kumon's proven business model has been developed over the past 60 years and is constantly being improved.
Here are some of our many awards and achievements from the Entrepreneur Magazine Franchise 500® List, both a dominant competitive measure for franchisors and a primary research tool for potential franchisees:

Want To Know More? – Attend our Kumon Franchise Information Session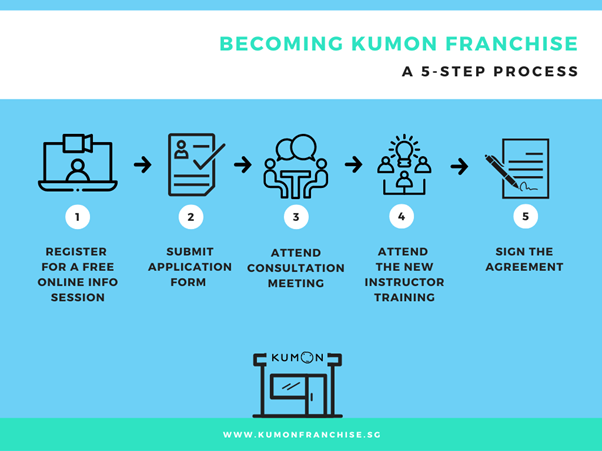 Interested in starting a franchise, or need more information? Register for a non-obligatory Kumon Franchisee Information Session here. Who better to hear from than successful franchisees and our Kumon franchise experts. We look forward to seeing you at one of our Kumon Franchise Information Sessions soon.
Become a franchisee today!
Attend A Kumon Franchise Information Session
After years of supporting and training Kumon franchise owners, we have mastered just about every issue, question or challenge you could possibly encounter. This is why we are offering a non-obligatory Franchise Information Session to cover whatever you need to know before you commit, such as:
Have all your questions answered at the orientation and find out if Kumon is the right fit for you.