Are you…?
Looking to embark on an entrepreneurial journey but unsure of how to start?
Waiting for the opportunity to assemble a team of like-minded individuals that share your same drive and passion?
Longing to take complete control of your schedule to have more family time or me-time?
Dreaming of working in a company that is both lucrative and rewarding such as your own?
Searching for a proven, ready-made business with all its know-how and ongoing support program to assist and guide you to success?
Exploring investing in the educational franchise?
Considering which award-winning franchise business to join in Singapore?
Looking to inspire and impact the lives of the next generation?
If you've answered YES to most of these questions, Kumon Singapore is inviting you to join its ranks of over 24,700 successful franchisees worldwide. Read on to find out more or click here to register for a non-obligatory franchise information session today!
Benefits and Perks of Becoming a Kumon Franchisee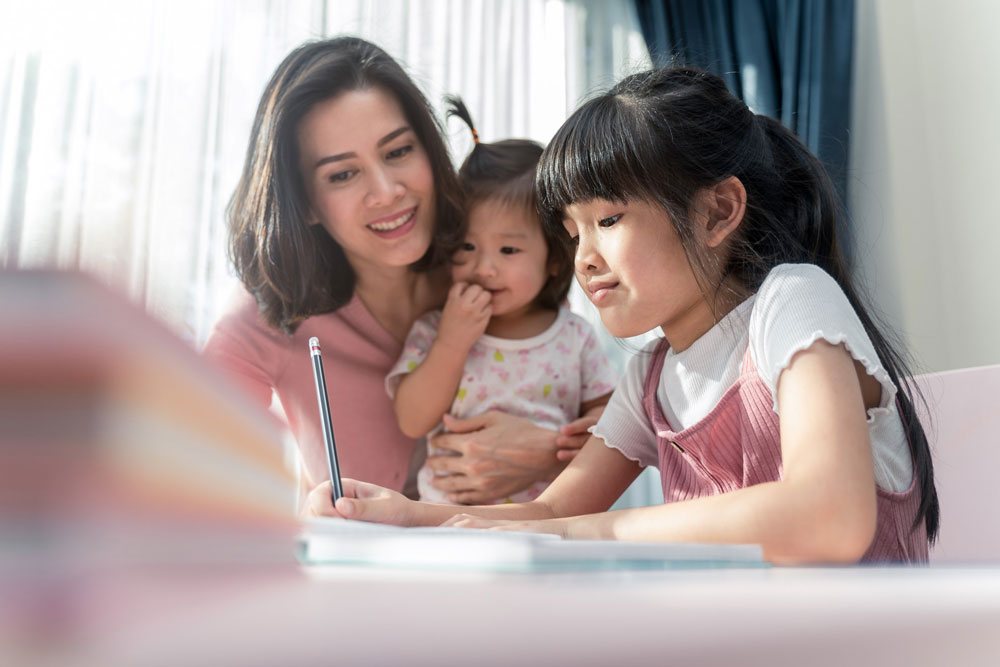 Kumon is a multi-award-winning franchisor for more than 60 years and is one of the most well-established education franchises in the world. Key benefits and reasons to become a Kumon franchisee are as follows:
Globally, there are more than 24,700 Kumon centres, with over 4 million children enrolled across 60 countries and regions
Renowned, multinational and strong brand recognition worldwide
Run your own business with fewer risks through the Kumon Proven Franchise Business Model and Guidelines tested over the past 60 years
Acclaimed "Kumon Method" of teaching, programmes and learning materials fully available and constantly improved to enhance the learning and growth of students
Extensive training, full preparation, and marketing support throughout the business journey
Comprehensive support from Kumon (education, legal, operations, teaching, communications, marketing etc)
Impact young lives positively through a safe learning environment and successful teaching methods
Embark on a journey that is both financially and emotionally rewarding as a Kumon franchise business owner
Pros of Opening a Kumon Franchise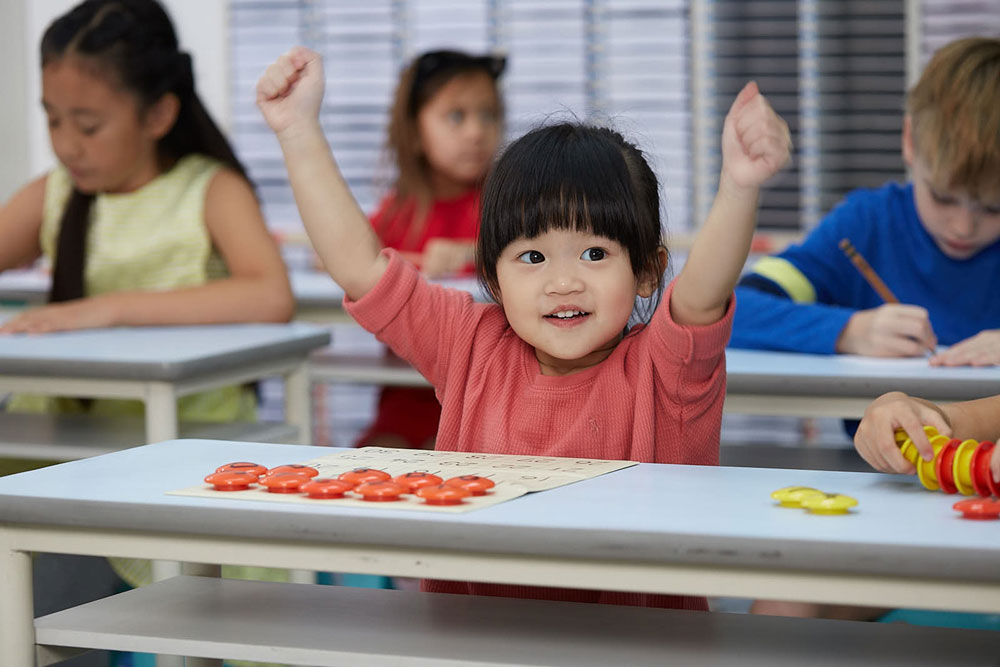 Tried and Tested Curriculum and Enrichment Programmes
Kumon is the world's leading after-school enrichment programme, offering Mathematics, English and Chinese language subjects to students from preschool to secondary school. Today, we are located in over 60 countries and regions, with more than 4 million students enrolled in over 24,700 Kumon centres.
Rest assured that the Kumon curriculum, structure, worksheets and materials are all provided, and training support will be available throughout. As a franchisee, you will receive extensive training and marketing support so that you can help students of all ages discover and achieve their potential. The Kumon materials provided are constantly improved to enhance the learning and growth of students.
Building Up Towards Return of Investment
After the initial startup franchise costs (which are kept low – only S$40,000 to S$80,000 on average inclusive of franchise fees, renovation and rental), franchise owners will progress towards breakeven and return of investment as they recruit students into the Kumon programmes. Franchise owners do not have to worry about costs associated to research & development, production and delivery of learning materials as these are taken care of by Kumon. It is important to invest time, effort and creativity into consistently acquiring, retaining and gaining new students. These efforts include hiring and training the right staff and creating a positive working and learning environment.
Low Startup Franchise Costs
With low startup costs from $40,000, Kumon is one of the most affordable Education franchises with a proven business model. In addition, our low license fee of $2000 makes it easier for passionate individuals to join us. Breakeven and achieve profits faster with a Kumon franchise. There are also attractive financial incentives for franchisees, including a grand opening marketing subsidy, assistance with leases, and purchase of learning centre furniture and exterior primary signage.
Long Lasting Business Resistance to Economy Fluctuations
On average, the tenure of a Kumon franchise business is more than 10 years. We are here throughout to ensure you have the extensive trainings and resources to run a profitable Kumon franchise from the start and in the long run.
Over 60 years have passed since the founding of Kumon and our centres have expanded worldwide and continue to grow each year. We will continue to strive to realize our goal of "Making a Contribution to the Global Community through Individualised Education" by consistently aiming to help students develop a firm foundation of academic ability and become people who are capable of learning on their own.
Change Lives, One Child at a Time: Highly Rewarding
Make an impact on young ones and help them blossom into independent, disciplined individuals with a never give up attitude. As a franchisee, you also be a Kumon Instructor that contributes to the success of your students. Our Kumon Instructors are highly involved in shaping the learning journey of our students, helping them to discover their full potential through The Kumon Method.
Shape the leaders of tomorrow with the support of Kumon's extensive training, materials, business model and longstanding reputation in the education industry. Seeing students progress and develop over the years is also extremely rewarding. Students gain confidence and excel through persistence and the teaching and guidance of the Kumon centre owner. Feel a sense of achievement and gratitude when you see each child flourish and reach his/her fullest potential through Kumon.
Build Close Relationships with Educators, Instructors, Kumon Parents and Students
As a Kumon Singapore franchise business owner, you will need to be comfortable communicating with parents by  sharing with them how the Kumon Method of Learning can help their children. Providing parents with regular updates on their  children's progress strengthen the partnership with them. It is important to continue building these good community relationships.
As a business leader, your  relationship with your  team of staff  is also of utmost importance.  Empowering, guiding  and supporting them  will help to achieve better staff retention and reduce turnover rates. With stability in staffing, students are able to benefit from the relationships build in the process  and be encouraged to attend Kumon lessons.
Grow Your Network with Ease
One of the benefits of opening a Kumon franchise centre would be meeting people from all walks of life and industries. Parents of Kumon students are actively involved in the growth of their children and many also interact with the teaching staff and owners of the centres. This provides ample opportunity for connection and with close relationships as mentioned above, one can expand his/her network even while being stationary in 1 Kumon centre.
Factors to Consider About Owning a Franchise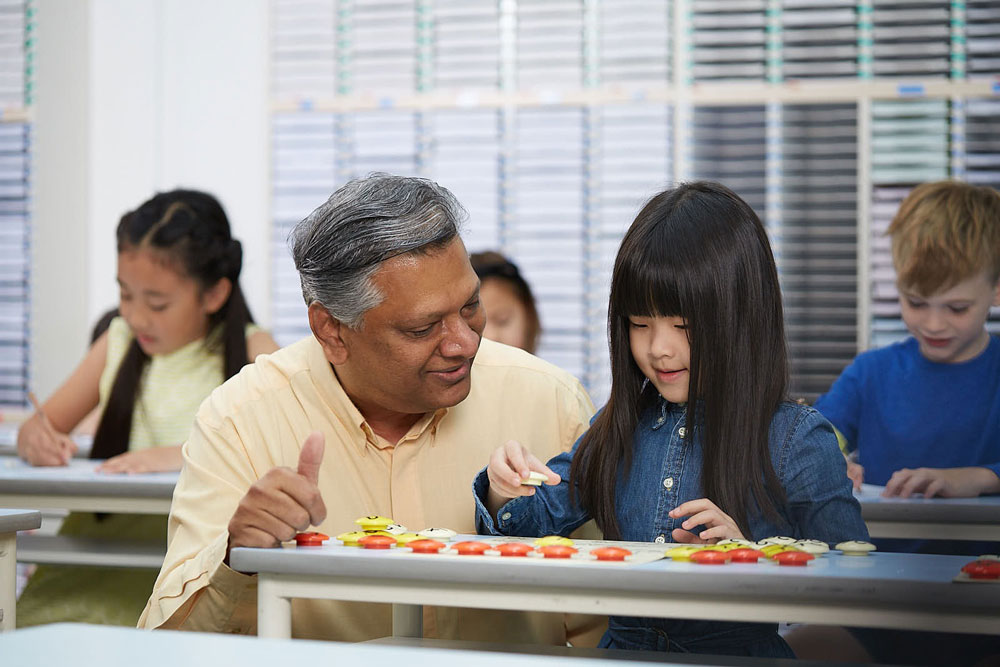 Think About Your Passion
It is essential to consider the things you already like, enjoy doing, and will enjoy running a business with. As a Kumon franchise Instructor, you are placed in a position that will shape and mould future generations and contribute to children's successes. You will spend an extended amount of time with young students and at times that can be challenging for some. Unless you have a genuine interest in working with children, you should not invest money into a franchise business simply because it is a well-established brand that does well.
Leave Little Room for Creativity
Kumon, being a franchise business model, requires you to follow its branding guidelines. For example, you won't have the freedom over elements like brand colours and logo compared to starting your own brand. Kumon franchisees must use any and all marketing collateral provided, such as in-centre posters and centre frontage, for consistent brand identity. That being said, you won't have to fret over establishing your own brand identity and image.
Make Time for Training
All Kumon franchisees must go through the New Instructor Training programme, including experienced teachers or business owners in the education industry. There are also regular ongoing training and refreshers to follow through for the Instructors, who are the owners, as well as their centre assistants. Every business level needs to remain aligned to Kumon's values and ensure consistent instructions are carried out at each centre worldwide.
The Kumon Method
How were the Kumon centres created? What is Kumon's curriculum based on? These are important questions that we will answer in this section. The Kumon Method transcends national borders and cultural barriers and has been accepted all around the world. Every parent or guardian believes in the potential of their child and has great dreams for his or her future. The Kumon Method does much more than simply help students develop solid academic ability. It also provides students with the joyful experience of encountering new material and making progress on their own.
With the aim of helping his son gain independence, Toru Kumon prepared his own learning materials and study method. He wrote out calculation problems on loose-leaf worksheets and combined them with a self-study method that would enable his son to advance by himself.
In effect Toru Kumon had laid the foundation for Kumon's individualised approach that enables each student to learn in accordance with his or her academic ability, and for Kumon's pursuit of potential; both of which we continue to place the utmost importance on.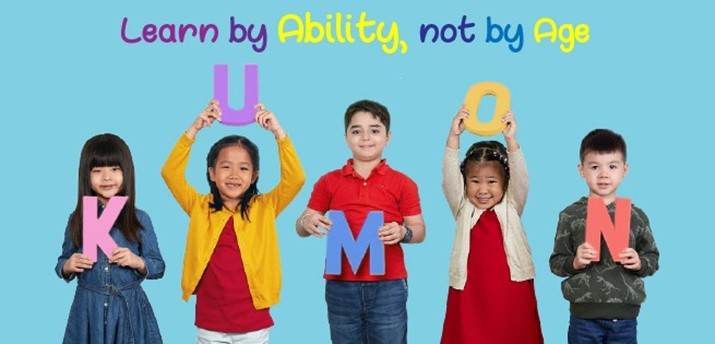 Therefore, the values of independent learning, self-discipline, time management and self-confidence in solving problems that Kumon strives to instil are developed through the Kumon Method. The goal of study with the Kumon Method is the development of proactive individuals who know how to learn independently.
When our students grow up and go out into the world, they will be fully capable of finding their own way in life. Two things are necessary for this result. One is the Kumon Instructor who discovers what is "just right" for each student. The other is the Kumon learning materials that are composed of a finely graduated series of steps designed to encourage students to progress on their own initiative. This combination of the Kumon Instructor and our learning materials makes it possible to provide individualised study that is "just right" for each student.
All students, regardless of age or school grade level, can enhance their ability with Kumon. Education with the Kumon Method supports the personal and academic growth of students in line with the hopes of parents and guardians. By consistently delivering concrete results, people can see for themselves how we at Kumon bring out the potential in each of our students.
The Kumon Method is based on long years of implementing individualised education. That is the reason why expectations for the Kumon Method are growing around the globe. We at Kumon intend to continue to meet these expectations by focusing our efforts on each one of our students. Furthermore, we will continue to refine the Kumon Method by closely observing our students and learning from them.
In this way, we believe we can better enable our students to reach their full potential and thus make a greater contribution to society – one centre at a time, one child at a time.
Kumon's Milestones and Achievements
As one of the most well-established franchises in the world, with more than 24,700 Centres, Kumon serves more than 4 million children across 60 countries and regions. Right at this moment, someone, somewhere around the world is learning with Kumon. We are actively seeking passionate individuals to join our local operations. As a franchisee, you get to run your own business using a proven business model developed over the past 60 years.
Over its 40 years in existence, the Entrepreneur Magazine Franchise 500® List has become both a dominant competitive measure for franchisors and a primary research tool for potential franchisees. Kumon's position on the ranking is a testament to its strength as a franchise opportunity for all to consider.

Kumon has been ranked:
Here is a brief overview of Kumon's history and milestones since the 1950s:
1954
Toru Kumon, a high school maths teacher in Japan, began providing education-based on the concept of self-learning to his son, Takeshi, then a second grader in elementary school. He wrote numerous calculation problems on loose-leaf paper for his son. This was the origin of the Kumon Method.
1955
The first Maths Centre using Kumon Worksheets is opened in Moriguchi city, Osaka.
1962 & 1963

The Osaka Institute of Mathematics Ltd. is established. The first Kumon Centre is opened in Shinjuku, Tokyo.

Kumon's Tokyo Office is opened.

1974
The first overseas Kumon Maths Centre opens in New York. As the effectiveness of the Kumon Method became more widely known, local children began to enrol.
1975
Overseas centre opens in Taiwan.
1977

Overseas centre opens in Brazil.

The total number of subject enrolments in Japan exceeds 200,000.

1979

Overseas centre opens in Germany.

The number of Kumon students in Taiwan topped 1,000.

1981

The total number of subject enrolments in Japan exceeds 1 million.

Overseas centres begin to open in Australia, Hong Kong, and Canada.

1983
The total number of overseas subject enrolments exceeds 10,000.
1989 & 1990

The total number of subject enrolments in Japan exceeds 1.5 million.

The Kumon English Program is currently provided in 24 countries and regions around the world.

Overseas centres begin to open in UK, Spain, Singapore, Chile, Mexico, China, South Africa, Philippines, Malaysia, Thailand, and Argentina.

1993

The Kumon Chinese Program (for native Chinese speakers) is launched in Taiwan. The Kumon Chinese Program is currently provided in six countries and regions around the world.

The total number of enrolments in the world exceeds 2 million.

1995
The total number of overseas subject enrolments exceeds 500,000.
2001

The total number of enrolments in the world exceeds 3 million.

Overseas centres begin to open in Indonesia, Colombia, Vietnam, Korea, and Macau.

The new (and current) Kumon logo is created.

2004

The Kumon EFL Program (English as a Foreign Language) is launched in Brazil. The Kumon EFL Program is currently provided in 30 countries and regions around the world.

 

The Kumon Spanish Program (for native Spanish speakers) is launched in five countries in South America. The Kumon Spanish Program is currently provided in eight countries around the world.

2005
The Kumon CFL Program (Chinese as a Foreign Language) is launched in Korea.
2006
The total number of enrolments in the world exceeds 4 million.
2008
The Kumon Thai Program (for native Thai speakers) is launched in Thailand.
2012
The Baby Kumon Program is launched.
2018
Kumon celebrates the 60th anniversary of its founding.
Guidance and Backing in the Franchisee Programme
We provide regular and extensive training for Instructors to ensure they are kept up to date. In terms of marketing, we work closely with the respective centres on ways to increase their visibility.
We understand that marketing for your own centre can be difficult and costly, that is why we provide marketing support to all our centres throughout the year, whether it is announcing your centre's grand opening, promotions or student recruitment. No additional marketing fee will be charged, it is all included in the franchise agreement.
PROFESSIONAL SUPPORT
Set-up your business with a proven franchise business model
Receive support from dedicated staff
Benefit from Kumon's well-researched and world class materials
BUSINESS SUPPORT
Low start-up capital
Business support package
TRAINING SUPPORT
Comprehensive training
Seminars for enhancing your business
Network and learn from successful franchisees
Topics covered in the training include:
– Instruction principles and learning materials
– The Kumon Method, curriculum, and learning materials
– Student assessment and enrolment
– The effective implementation of study programmes
– Communication with parents and students
– Centre management strategies
– Centre administration, policies, and procedures
Register for a Kumon Franchisee Information Session – it's as Easy as 1, 2, 3!
This is the process of application and what to expect: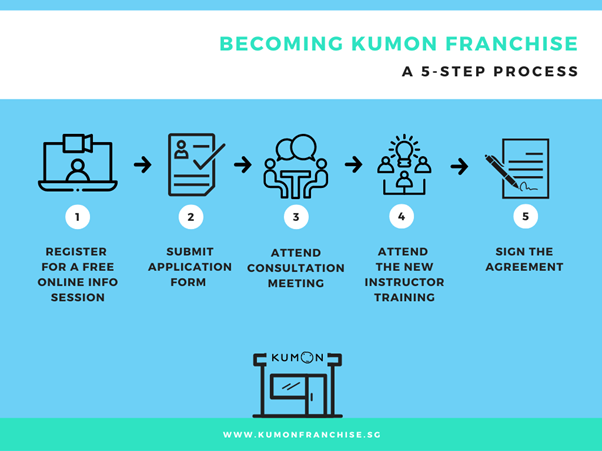 Signup at this form for a non-obligatory information session with Kumon and attend it. Listen to the experts and ask any questions and share any concerns that you may have about owning a Kumon franchise.
Explore exciting franchise opportunities today with the ultimate education franchise.
We look forward to meeting you soon!
Attend A Kumon Franchise Information Session
After years of supporting and training Kumon franchise owners, we have mastered just about every issue, question or challenge you could possibly encounter. This is why we are offering a non-obligatory Franchise Information Session to cover whatever you need to know before you commit, such as:
Have all your questions answered at the orientation and find out if Kumon is the right fit for you.