Well-known to many, franchising is a tried-and-tested form of marketing and distribution for businesses. A business franchise is a joint venture between a franchisor and franchisee who enter a willing contract where a franchisee, pays a royalty and often an initial fee for the right to do business under the franchisor's name and system (International Franchise Association).
Franchise opportunities have gained rising popularity among aspiring business owners. Some attractive factors include verified business framework, well-established brand name and awareness, and continuous assistance and training provided by franchisors. It is a business contract that is characterized by a relationship, branding, systems, and support.
All of which are highly beneficial for a first-time business owner.
In the focus of the Education industry, one of the most notable franchises is Kumon's. With a stellar record and reputation since 1958, Kumon grew rapidly in Japan and soon expanded overseas by 1974. Today, Kumon boasts over 3.6 million students in more than 60 countries and regions worldwide. If you are looking to join a stable yet growing franchise group, Kumon is the clear choice.
Discover some insights as to what your day-to-day life could look like as a Kumon Franchisee in Singapore.
Role, Duties & Responsibilities of a Kumon Franchisee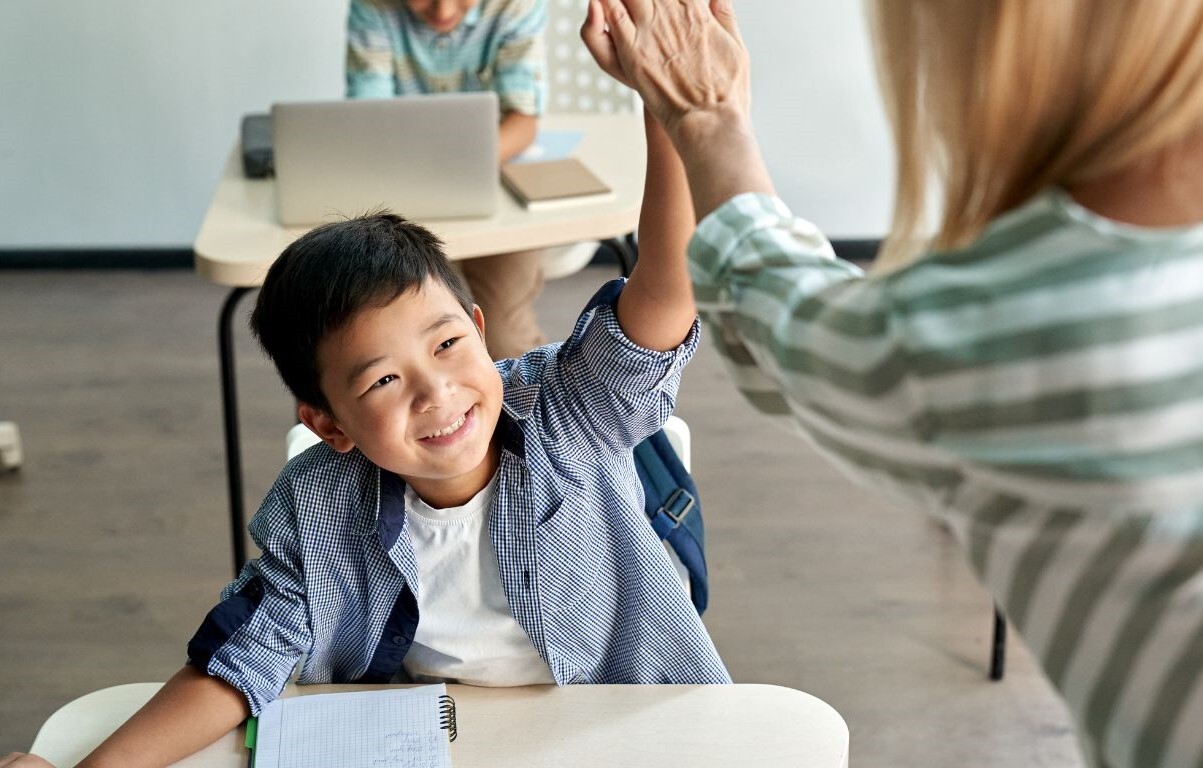 To start, as a new franchisee, there are certain operational responsibilities and areas that require your focus.
Interacting with students, parents and prospective customers
Registration and diagnostic process of students
Instructing and Teaching of students
Reviewing students' progress
Communicating with students' parents
Adjusting study plans
Research and Training with Franchisor
All running operations of the centre(s)
Maintaining the centre(s)
Handling areas of costs involved
Beyond these, it is imperative that Kumon Instructors uncover and nurture the unique potential within every student in their centre. Kumon is a learning and growing organization and it spearheads the same for each student.
Kumon Instructors and Franchisees should closely observe each student, thoroughly considering their academic capabilities and personal traits. Next, offer adept assistance to ensure that the student consistently engages with material at the appropriate challenge level. Kumon Instructors monitor and recognize the progress of each student, providing commendation, encouragement and motivation along the way to help each student achieve their fullest potential.
What Can You Expect to Work on as a Kumon Franchisee? 
As a business owner, you will have the flexibility to work in the centre, at home or remotely depending on your preferred schedule.
For days where there are Kumon classes, you will need to be at the centre. This is usually the time window of after school (2/3pm) to end of the day (7/8pm). The time before and after this is largely free for other responsibilities.
All Kumon Franchisees interviewed agreed that you will be able to give yourself 2-3 days off a week with good planning and scheduling to achieve work life balance.
The 2 main areas where work will be done are at Home and at the Kumon Centre. As the business owner, you will have flexibility and free reign to decide where you prefer to complete your work. One thing to note would be that you will need to continue to be active and present at the centre as the centre owner and key Kumon instructor.
1.  At Your Home
Preparing student folders
Following up on student attendance
Enquiries, phone calls or emails
Parent Interviews and Centre Visits (in-person, calls or emails)
Updating parents on students' progress (in-person, calls or emails)
Any urgent matters
2.  At the Kumon Centre
Preparing student folders
Following up on student attendance
Enquiries, phone calls or emails
Parent Interviews and Centre Visits (in-person, calls or emails)
Updating parents on students' progress (in-person, calls or emails)
Any urgent matters
3.  With the Kumon Franchisor Organization
Trainings and/or Meetings
Updates on the centre's progress and performance
Hear from Fellow Business Franchisees with Kumon
It is always best to hear from peers and fellow franchisees about the business. Here is what some franchisees have to say about the role and running a franchise business:
As a former teaching assistant in one of the Kumon Centres, I love watching
the growth and transformation of many students,
not just in terms of their academic
ability
but also their study
attitude.
I was impressed with the Kumon Method. There and then, I made up the decision to open a Kumon Centre when I was still an undergrad. It became my first personal goal.
It has been more than 10 rewarding years since. I am thankful to be running my own business that is not only successful but also meaningful and rewarding!Pauline (Kumon Franchisee and Instructor, Singapore)
It is important that I analyse my Centre and student cases to keep improving.
I regularly do this together with my Franchise Development Consultant and I am also participating in voluntary professional development programs such as study groups and mentoring programs.
These activities let me focus on the important parts of running a Centre and make my life easier on a day-to-day basis. Occasionally, I will spend time out of hours promoting Kumon in the local community. Being a Kumon franchisee is a full-time job, as developing my students and my business takes time and effort.
However, it is a job that gives me the flexibility I need for my family and the satisfaction of giving something to my local community as well.Rovi (Kumon Franchisee and Instructor, Australia)
In Kumon, I see the
hopes for the children.
Some of them had given up on themselves when they first joined Kumon. But these children have so much potential in them.
After joining Kumon, they have changed totally.
They are so confident. Some of the Kumon Completers are doing so well in the society now.
If I could turn back the clock to more than 14 years ago when I was still working in the banking industry, I would still recommend myself to do Kumon. Because what I am doing is more meaningful to the society and children around us.Michelle Poh (Kumon Franchisee and Instructor, Singapore)
What's great about Kumon is that my
working hours are flexible.
I can choose to work at night, which fits around my family commitments.
I am not bound to be in the office from 9 to 5, I can choose to attend my kids' school events during the day without having to take time off or sneak out from the office.
When my kids are sick, it is not a problem to me, as I can be at home with them and still get some work done too.Lucy (Kumon Franchisee and Instructor, Australia)
Success with an Education Business Franchise
To thrive in the education franchise industry and your very own franchise, it is crucial to follow certain steps and strategies. Read more about how to achieve success with a franchise here.
We are always on the lookout for like-minded people to positively contribute to students' education and long-term development.
At Kumon, you can build a fulfilling and exciting business that helps your local community. Each Kumon franchisee owns and operates their own Kumon Education Centre within our global franchise network. This network supports each other to realise the shared vision of helping each student reach their potential.
Want to know more about owning your own education franchise? Kumon Franchise has a great opportunity for you!
Know More About Owning Your Own Education Franchise – Attend our Kumon Franchise Information Session Today!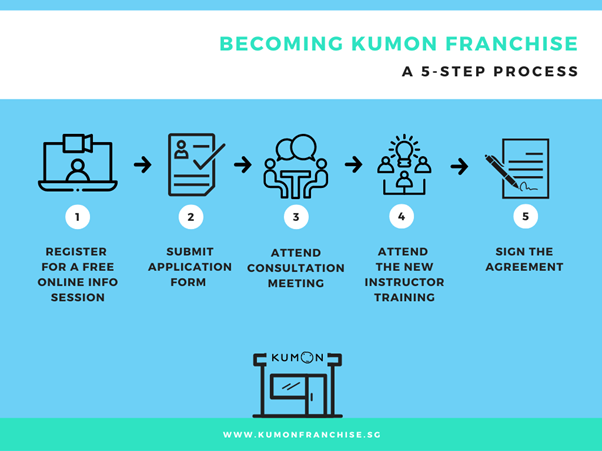 Interested in starting a franchise or need more information? Register for a non-obligatory Kumon Franchisee Information Session here. Who better to hear from than successful Franchisees and our Kumon franchise experts? Ask questions and find out what it takes to run your own business successfully.
Become a Franchisee today!
Attend A Kumon Franchise Information Session
After years of supporting and training Kumon franchise owners, we have mastered just about every issue, question or challenge you could possibly encounter. This is why we are offering a non-obligatory Franchise Information Session to cover whatever you need to know before you commit, such as:
Have all your questions answered at the orientation and find out if Kumon is the right fit for you.