For most countries, the concept of enrichment classes is not new. They have become an important part of the education system and one's educational journey.
So let's start off by asking, what exactly is an enrichment programme or class?
Enrichment programs are scheduled classes where students can receive advanced academic instruction and guidance, get additional help with homework, or discover new interests and activities outside the classroom setting and timetable.
Here are some types of enrichment classes that students and parents can sign up for:
Academic & Study Enrichment


Languages
Arts
Sciences
Technology
Mathematics

Sports & Recreation Enrichment
Musical Enrichment
Reasons for Enrolling Children in Enrichment Centres and Classes
Helps children become critical thinkers
Enables children to study and think independently
Empowers high-achieving students who need challenges
Allows low-achieving students to get support for schoolwork or homework
Encourages students of all levels to learn persistence and determination to succeed
Provides children with the opportunity to explore new activities and develop new skills
Flexibility of scheduling as enrichment classes can be attended before or after school hours and during the school holidays
Exposure to different environments outside of home and school
Increases a child's curiosity for learning and growth
One can make a difference by owning an enrichment centre. If you see yourself as a nurturer, educator or leader, opening an enrichment centre would certainly bring about more good to the educational journey of all your future students.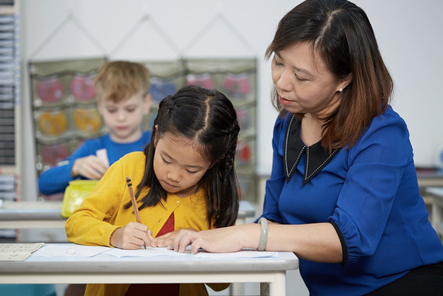 To help with your consideration, here are some of the Key Benefits of being an Enrichment Centre Owner in Singapore:
1. Strong Educational Reputation in Singapore
Singapore is known for its high-quality education system, and enrichment centres in the country have a reputation for providing the same high-quality education. This, therefore, can attract more customers (parents) and enhance your enrichment centre's reputation over time.
2. Singapore's High Demand for Enrichment Centres
With our highly competitive education system, parents in Singapore are constantly seeking ways to enhance their children's academic performance. This creates a high demand for enrichment centres offering supplementary education in subjects their child might be weaker in. Most commonly, Math, Mother Tongue, and Science.
There are many enrichment centres where spots are quickly taken up, and many end up on waiting lists. Opening an enrichment centre in this educational climate would be a win for interested individuals.
3. Diversified Curriculum & Programmes
Enrichment centres can offer various programmes, including academic tutoring, language classes, music and art lessons, and sports training. This allows centres to cater to a comprehensive range of interests and needs, attracting a more extensive customer base.
This also allows the centre owner or franchisee to decide what kind of enrichment centre they want. It is best to select programmes that you are passionate about and are able to speak on – however, not to worry, as most franchises provide thorough training for new franchisees.
4. Strong Support System of Government & Industry Experts
Enrichment centre owners in Singapore will have access to a strong support system, including government agencies, industry associations, and other businesses in the education sector. The connection and system can provide valuable resources, a helping hand when business struggles occur, and networking opportunities for centre owners.
5. Flexibility of Programmes & Curriculum
Owners can offer student programmes on different subscriptions, sign-ups, sessions or payments, allowing the enrichment centre to cater to the needs of diverse students and parents.
This could help to create a loyal customer base that values the centre's flexibility and customised approach. Most enrichment centres offer students with a range of timing and class selections. Some will prefer to attend the session in the afternoon, while others will prefer the evening class. With more sessions being made available during the school holidays.
6. Creating a Multicultural Environment & Inclusivity
Singapore boasts a diverse population with different cultural backgrounds, languages, and beliefs. Enrichment centres that cater to multicultural environment can create a unique learning experience that is both educational and culturally enriching. Ensuring a connected and supportive learning environment for students is vital to parents, and centre owners should keep this in mind.
One day soon, you could be the leader of a team of passionate and capable instructors who teach through a well-planned curriculum and various activities for students of all ages. As the owner of the enrichment centre and franchisee, you will build strong relationships and engage with parents on their children's progress and growth.
Want To Know More? – Attend our Kumon Franchise Information Session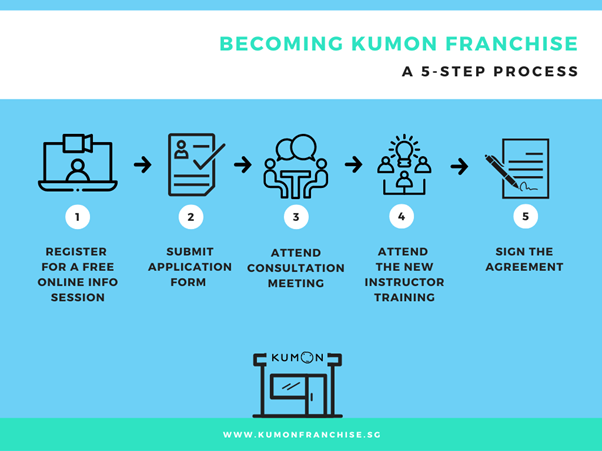 Interested in starting a franchise or need more information? Register for a non-obligatory Kumon Franchisee Information Session here. Who better to hear from than successful Franchisees and our Kumon franchise experts? Ask questions and find out what it takes to run your own business successfully.
Become a Franchisee today!
Attend A Kumon Franchise Information Session
After years of supporting and training Kumon franchise owners, we have mastered just about every issue, question or challenge you could possibly encounter. This is why we are offering a non-obligatory Franchise Information Session to cover whatever you need to know before you commit, such as:
Have all your questions answered at the orientation and find out if Kumon is the right fit for you.